AND THE BIRTH OF THE BRITISH B BOY
Broken Glass Crew 1985
(Clockwise from bottom left: Tim 'Bones', Danny Price, Swanny (RIP), Kevin, Ozzy, Patrick, Donald)
---
Back in 1984 Manchester's Broken Glass were the best-known breakdance crew in the UK, appearing on a whole host of national TV programmes ranging from the cutting-edge music show, The Tube, to children's favourite "CBTV", and even popping up at peak-time on a Saturday night (ITV's "Some You Win").
Broken Glass – Manchester 1984
The Broken Glass Street Crew originally came together in the summer of 1983, busking in Piccadilly Gardens in Manchester city centre. They were true pioneers of British breaking (Kermit, a founding member, would be the first UK breakdancer photographed for a national publication). At this point in time, Manchester was at the heart of the underground Electro-Funk scene, from which the early British b-boys (and fly girls) emerged, and I was the DJ at the North's leading specialist black music nights of the era, Wednesday at Legend and Tuesday at The Pier, in nearby Wigan. I'd also taken over the Friday night at The Haçienda, then very much an alternative venue, and, in addition to this, would appear at the clubs Saturday night sessions, playing for an hour each week, and introducing their regular crowd to the New York Electro that held sway on the black scene.
Dave The Wave
During the closing months of 1983, Broken Glass became, to all intents and purposes, The Haçienda's resident crew, dancing on the stage during my Saturday night spots. They played a significant part in raising the clubs profile with Manchester's influential black audience, although, sadly, their role in setting The Haçienda off on the road towards becoming a legendary dance venue has never been properly acknowledged (despite the Observer Colour Supplement documenting this at the time in a double-page feature, which gave the crew their first national exposure).
Broken Glass Observer Spread Page (Climck images to enlarge)
Broken Glass would soon begin to regularly appear at club venues throughout the country. Many people would recall that their performances would leave a lasting impression on them, including Norman Cook, who would cite Broken Glass as the crew who introduced Hip Hop to his hometown of Brighton in December '83 (following an appearance as part of the "Haçienda Review").
In June 1984, Broken Glass added a further string to their bow by releasing a record (with Kermit and Fiddz rapping). This was "Style Of The Street", which featured on Street Sounds "UK Electro" (an album that reached Number 60 on the British chart) before being issued as a single in its own right. Starting with the first "Electro" compilation in October 1983, Street Sounds would bring this highly innovative form of dance music to a whole new audience, outside of the black areas where Electro first took off, via their hugely influential and long-running series of LPs, which provided the soundtrack for British breakdancers the length and breadth of the country. Apart from "Style Of The Street", "UK Electro" featured 5 other tracks (under a variety of aliases) that I'd worked on with musicians, Martin Jackson and Andy Connell. It was very much an experimental project, but would ultimately gain cult status.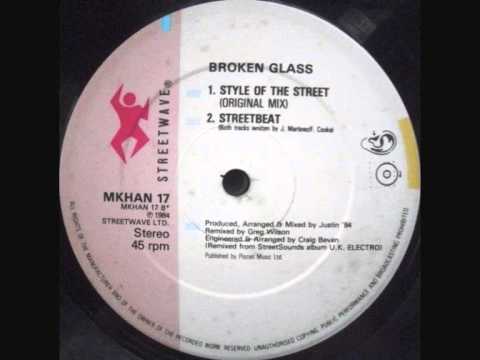 Broken Glass 'Style of the Street' (Original Mix)
"Style Of The Street" was one of the first ever UK Hip Hop singles, with Broken Glass playing a leading roll in the foundation of the movement in this country. Fellow Mancunian, Gerald Simpson (A Guy Called Gerald), who originally started out as a Hip Hop DJ, but would later in the decade record one of the defining Acid House tracks, "Voodoo Ray", viewed them as a big influence. Remembering how the crew were regarded as local 'superstars', he'd say: "The thing that made me want to get into production, into making things, was Broken Glass."
Broken Glass – Manchester 1984
The original break era was a life-changing period for so many people, who as a result would become DJs, dancers, rappers and musicians. For young blacks in particular, this was a truly inspirational time, and Broken Glass perfectly reflected this spirit of creativity.
Kermit eventually became one of the UK's best-known rappers following his debut on "Style Of The Street", firstly as part of the Manchester trio, the Ruthless Rap Assassins, whose "Killer Album" in 1990 was critically acclaimed as a major landmark for British rap. Kermit would go on to hook up with Shaun Ryder of The Happy Mondays to form Black Grape, scoring a Number 1 album and a string of hit singles, whilst a second ex-Broken Glass member, Dave 'The Wave' (now known as Davy T) has also sold over a million records worldwide, this time with various dance projects, including The Porn Kings and 2 Funky 2.
One of the countries top contemporary dancers, Benji Reid, has taken his one-man show around the globe in recent years, including a run of dates at Sydney Opera House. Benji, a master popper like his mentor, Raymond Campbell, would go on to work with Soul II Soul as a dancer / choreographer after winning the European Body Popping Championship, just as the awesome breaker, Danny Price, would work in a similar capacity for Goldie / Metalheadz. Danny was, along with Dave, one of only two out-of-towners brought into the Manchester fold back in the early days of Broken Glass, and has since forged a highly successful career as a dancer and actor.
Royston Swanston and Tim Ford would become teachers, passing on their dance skills to the next generation of breakers and poppers, while Raymond Campbell and Kevin Lowe took a musical direction, and continue to produce their own recordings.
Broken Glass, Piccadilly Gardens – Manchester 1984
The three Morris brothers, Stephen, Kevin and Michael (the youngest original Broken Glass member), formed a family fight dynasty, resulting in both national and international boxing and martial arts titles. Back in 1983, Stephen had been the winner of the North-West Breakdancing And Body Popping Championship, the first competition of its type, with the final held at The Haçienda.
All the members of Broken Glass, in one way or another, would find their lives shaped by this period, as would I, and now, two decades down the line, the crew's undoubted contribution to Manchester's rich musical heritage is about to be celebrated in style at a reunion event in the city on August 8th 2004.
As preparations were being made to hold the reunion twenty years on from "Style Of The Street", the crew received news that one of the UK's biggest ever dance acts, The Prodigy, have used the track as the basis of their comeback single, "Girls", giving the anniversary further relevance. "Style Of The Street" might be fondly remembered by the fanatical retro-Electro community in the UK, but the association with The Prodigy, whose appeal is international, means that far more people will become aware of "Style Of The Street" in 2004 than when the record was released in 1984.
Further to the reunion, there are also plans for Broken Glass to set up a street dance academy, whilst documenting their history on a website, which will pay tribute to the Old Skool days when a roll of lino became a stage, and the British public would watch in awe as groups of raw, but extremely talented street kids, blew them away with their dynamic impromptu performances.
Greg Wilson, 2004.
Broken Glass Reunion – August 2004
The Broken Glass Reunion was a huge success. The atmosphere was electric, with both new and old skool breakers and poppers busting their moves, cheered on by a wildly appreciative circle of spectators.
It was a sunny day with top vibes all round. Great turnout, including some people we hadn't seen in donkeys! Lots of back in the day DJs came along, from both Manchester and further afield, including Tomlin, Snowboy, George Evelyn (from Nightmares On Wax), and, of course, Hewan Clarke, who played alongside me.
Two camera crews were in the building and dozens of people with their own hand-helds, including Shorn Braithwaite (aka MC Buzz B) who brought a big surprised smile to my face when he sneaked up on me in the DJ box (or to be more precise, DJ half a Jeep). Tony (or as he's now known, Anthony H) Wilson popped-in to say hello (he lives nearby) and Jason Orange returned to his b boy roots (Jason was with Street Machine, the other great Manchester crew, before becoming a member of Take That, the famous pop act), taking to the circle with some impressive moves, following the introduction of Broken Glass by Benji Reid and Kermit. It was a huge buzz to see the old skool meet the new on the lino (for that truly authentic touch!). The old guys didn't disgrace themselves either, despite being in their mid-late 30s. The new guys have taken it on to another level, but the OGs held their own. Respect all round.
It was a day that will be remembered for a long time to come by those who were there, many of whom were getting their first taste real live breaking!
POSTSCRIPT 2006
Hearing the news of Swanny's passing on February 20th 2006 was obviously a huge shock for all of the Broken Glass crew. The following Friday night, Benji Reid dedicated the opening night of his new production, "Life of a B-Boy", to Swanny. The performance at the Zion Arts Centre in Hulme. Manchester, was attended by members of Broken Glass. A particularly poignant moment was when, after paying tribute to Swanny, Benji mentioned that his newly born daughter, who was just a week old, was in the audience – a reminder that birth and death are intertwined, with all of us subject to life's cycle.
Swanny's life burned as brightly as the smile upon his face. He might have died young, but he truly lived. His energy was infectious and touched so many people, not least those who attended his dance classes.
Back in 1983, when Broken Glass formed, Swanny was one of the key members, his home becoming a practice area for a number of the crew in those early days, as they cleared back the furniture and tried out new moves. Dancing would become the major force in Swanny's life, so the fact that we celebrated this pivotal time by, once again, coming together, less than two years ago, for the Broken Glass Reunion, is made all the more precious now he's no longer here.
---
© Greg Wilson, August 2006